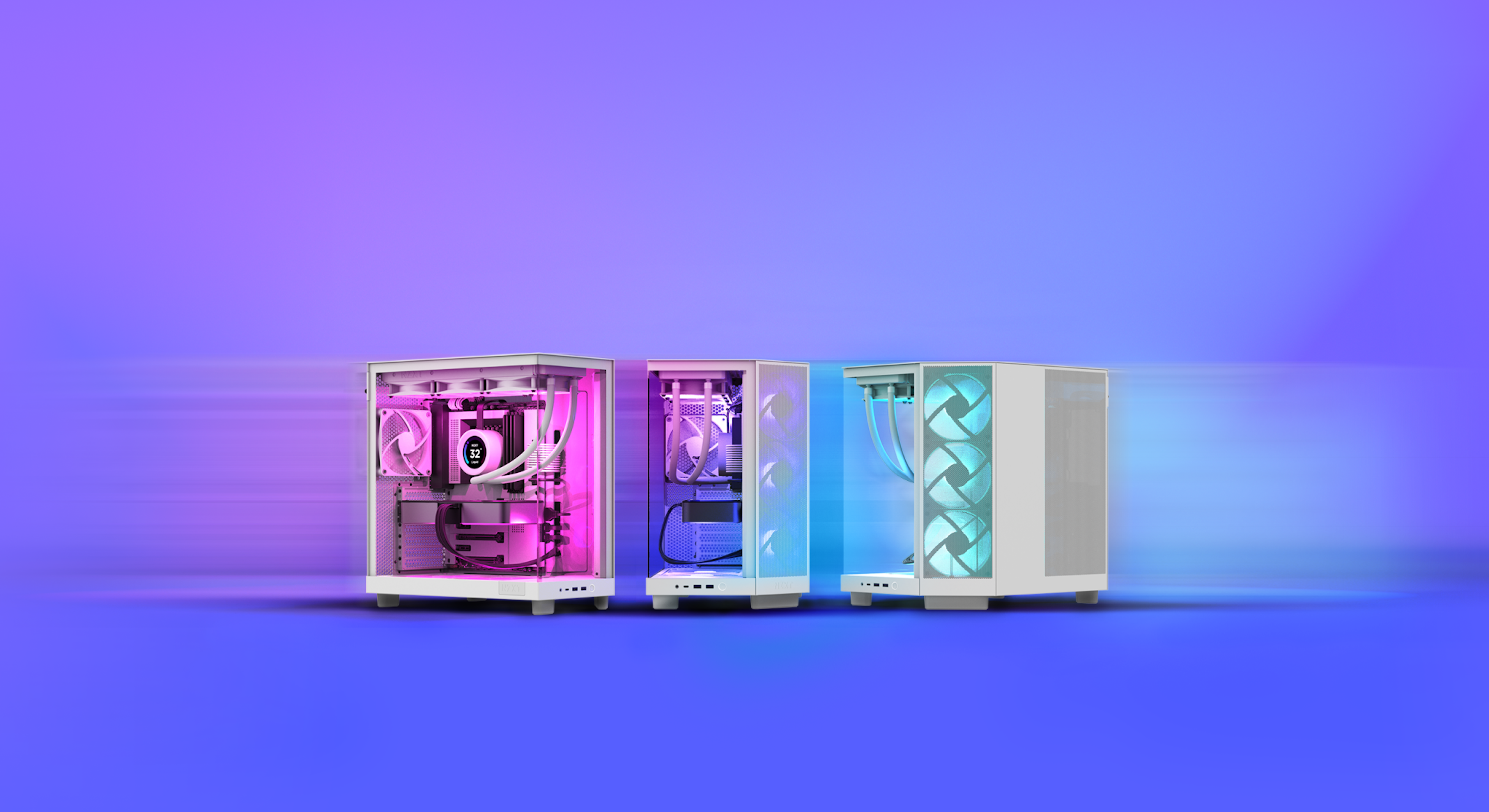 H6 Series
Compact Dual-Chamber Mid-Tower Airflow Cases

Meet the H6
The H6 Flow's design prioritizes GPU cooling and frees up space, while panoramic glass showcases the inside.
"NZXT H6 Flow RGB is, as per NZXT tradition, a really great case."
"The NZXT H6 Flow RGB is more than just a pretty face as it also works impressively well."
"Efficient, enjoyable, not too bulky, and affordable, this NZXT H6 Flow is a banger!"
"NZXT cases have always had that elegant simplicity in their design language, the H6 is a master in clean lines and consistent ventilation patterns. The side fan location is for fans only, it's smart because it's delivering fresh air directly for your GPU and CPU Cooler without interfering with any of your Hardware components."
Hardware Canucks
"Those angled front right intake fans direct airflow straight at the GPU, thus, in theory keeping GPU temps lower whilst also optimising the direction of airflow for less turbulence. NZXT have executed this extremely well with the H6 Flow, the design language has loads of appeal combined with an extremely easy and intuitive build process."
Mr Matt Lee
"As with NZXT's other cases, H6 has a very simple angular design that looks great. I've always enjoyed the elegant simplicity of NZXT's cases. For the most part, building inside of the H6 was a breeze. Dual chamber cases allow for more freedom with mounting and routing cables."
9to5Toys
A Seamless Showcase
Experience the efficiency of a dual-chamber layout, harmoniously balanced with elegant style.
Panoramic Paneling
Wraparound glass provides an unobstructed view of the inside.
Compact Dual-Chamber Design
Improves cooling performance and creates an uncrowded aesthetic.
Vertical GPU Support
Proudly display your GPU vertically using the NZXT Vertical GPU Mounting Kit (sold separately).
Peak Performance
Precision cooling with thoughtfully designed airflow.
Angled Airflow
Angled front-right corner with 3 x 120mm pre-installed fans targets heat-prone components.
Focused GPU Cooling
Fits two 140mm fans under the graphics card for flush-mounted bottom intake.
Optimal Perforation
Ultra-fine perforation on the top and sides and more open in the rear to maximize airflow.
Suit Your Space
The H6 Flow and H6 Flow RGB are available in All-White and All-Black.
Building Made Simple
Streamlined design for easy upgrades, cable management, and expansive component support.
Intuitive Cable Management
Easily manage cables with wide channels and included straps.
Tool-Less Access
Access the top and side panels without tools for quick upgrades.
Spacious Support
Up to a 360mm radiator in the top and clearance for a 365mm GPU.
Compare All Models
For every space, there's an H series case to match. Compare and find your fit.
Enhance Your H6
Get the most out of the H6 with these NZXT components and accessories.
Personalize the H6 with the Kraken
Cooling
NZXT's all-in-one (AIO) liquid cooler delivers high-quality cooling potential.
Monitor Your PC or Show Off
Monitor temperatures or customize with GIFs on the Kraken 240 x 240 LCD display.
Vertical GPU Mounting Kit
A solid steel bracket for vertically mounting your GPU, supporting high-speed data transferral and backward compatibility. This mount is ready for 40 series cards with PCIe 4.0 supported riser cable with high-speed data transferal.
A Colorful Trio
The H6 Flow RGB has three pre-installed F120 RGB Core fans positioned at an angle to cool internal components for out-of-the-box performance.
Optimal Cooling
Fan blade design delivers optimal balance between airflow and high static pressure—ideal for use anywhere in a PC
Dazzling Customization
20 individually customizable RGB LEDs and dual-sided lighting offer harmonized lighting effects and color customization via NZXT CAM.
Better Together
Create the ultimate desk setup with our lineup; whether it is a Canvas Monitor, a Capsule Mic, a Function Keyboard, or any of our other great products, you can combine them to make for a customizable and cohesive desktop environment.
Stay In Touch
Keep up to date on the latest releases, offers, and news from NZXT