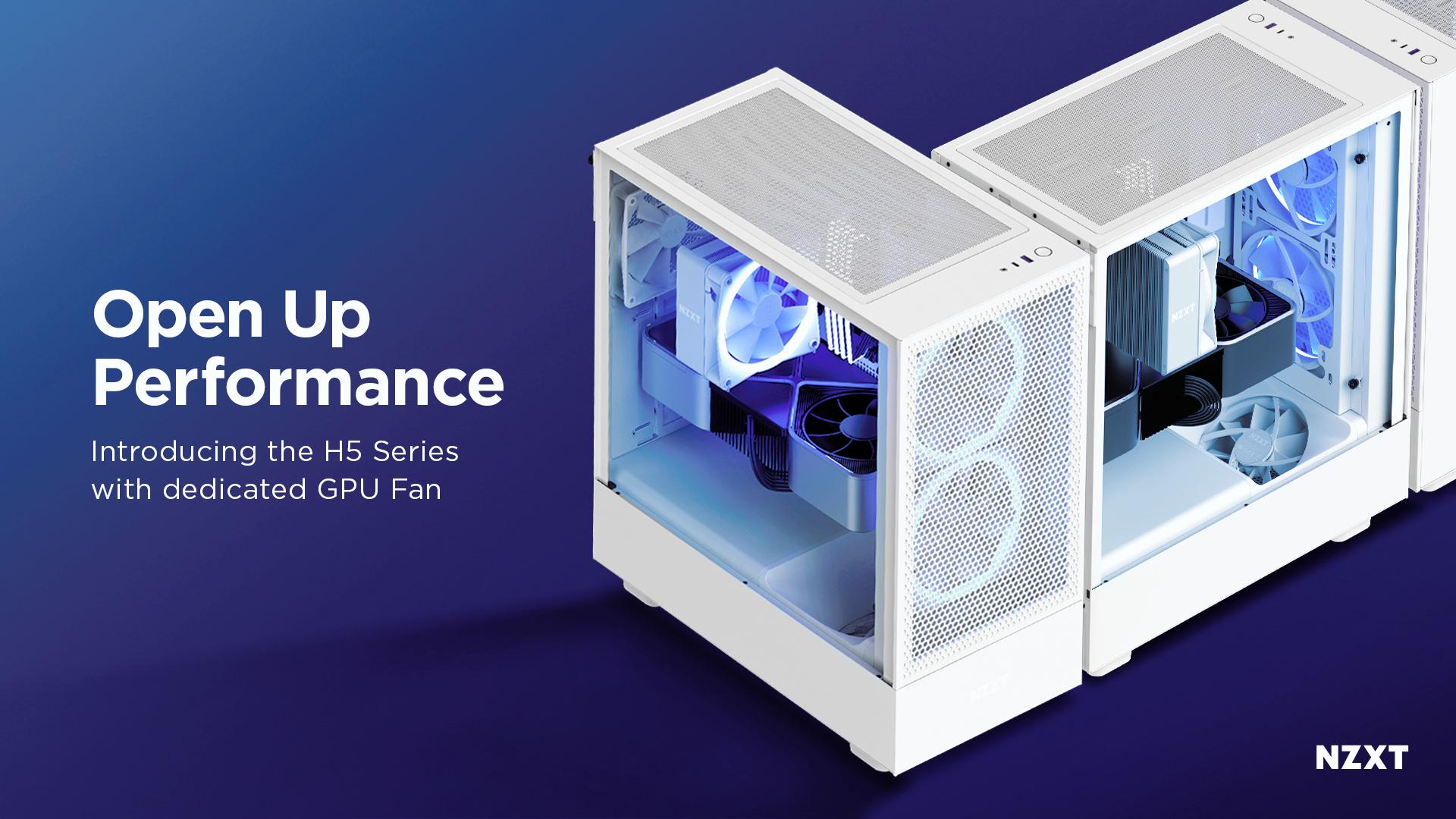 Your Case, Your Space
We renovated our new compact mid-tower cases, and they are ready for the gram! The H510 series is one of our most popular with the community, and it was time to give them a well deserved refresh. The H5 Flow and H5 Elite were redesigned with new features to provide a confident stress free building experience and optimal cooling performance. A new, more spacious back panel network makes wiring neat and simple. A bottom fan was also added to help with cooling. Make your build unique to you and your needs with new and exciting renovations!
Going With The Flow
It may not have flowing long locks, but the H5 Flow is ready to turn heads. With an all-new upper panel, the H5 Flow has room for one full size 240mm AIO radiator. The rear panel now houses a wider, more spacious cable management network to make cable routing neat and simple. Let's not forget about airflow! It is the H5 Flow, after all. Aside from the convenient perforated front panel, we now have a new GPU facing 120mm fan at the bottom of the case to stay cool for day long gaming sessions.
Going Elite
With a beautiful glass figure, the H5 Elite is ready for a closeup. The first thing you will notice about the H5 Elite is its tempered glass side and front panel giving a look at three very bright, very awesome RGB F Series fans. We've made cable routing easy and simple with a wider, more spacious rear panel network. At the bottom of the case, we now have an intake fan similar to H5 Flow for better internal airflow during overnight game marathons. To top it all off, we ensured this case retained the classic H510 Elite shape for those iconic RGB focused builds.
Cooling is a Snap
We love AIO liquid cooling, but we also love air coolers! The new T120 Air cooler is easy to install and maintain compared to liquid air coolers. In order to make your build aesthetically unique to you, the T120 comes in black or white and RGB or non-RGB. Have an AMD motherboard? Have an Intel Motherboard? No problem! The T120 will fit both types of sockets easily. Let's not forget even more options to customize your air cooler with NZXT CAM and other CAM accessories.
Show Off Your Build
We can't wait to see what you do with these new products. We love seeing your H5 builds all over social media. So please follow us on Discord, Twitter, and Instagram to join in the fun!