All News
Welcome the Function and Lift to the NZXT Family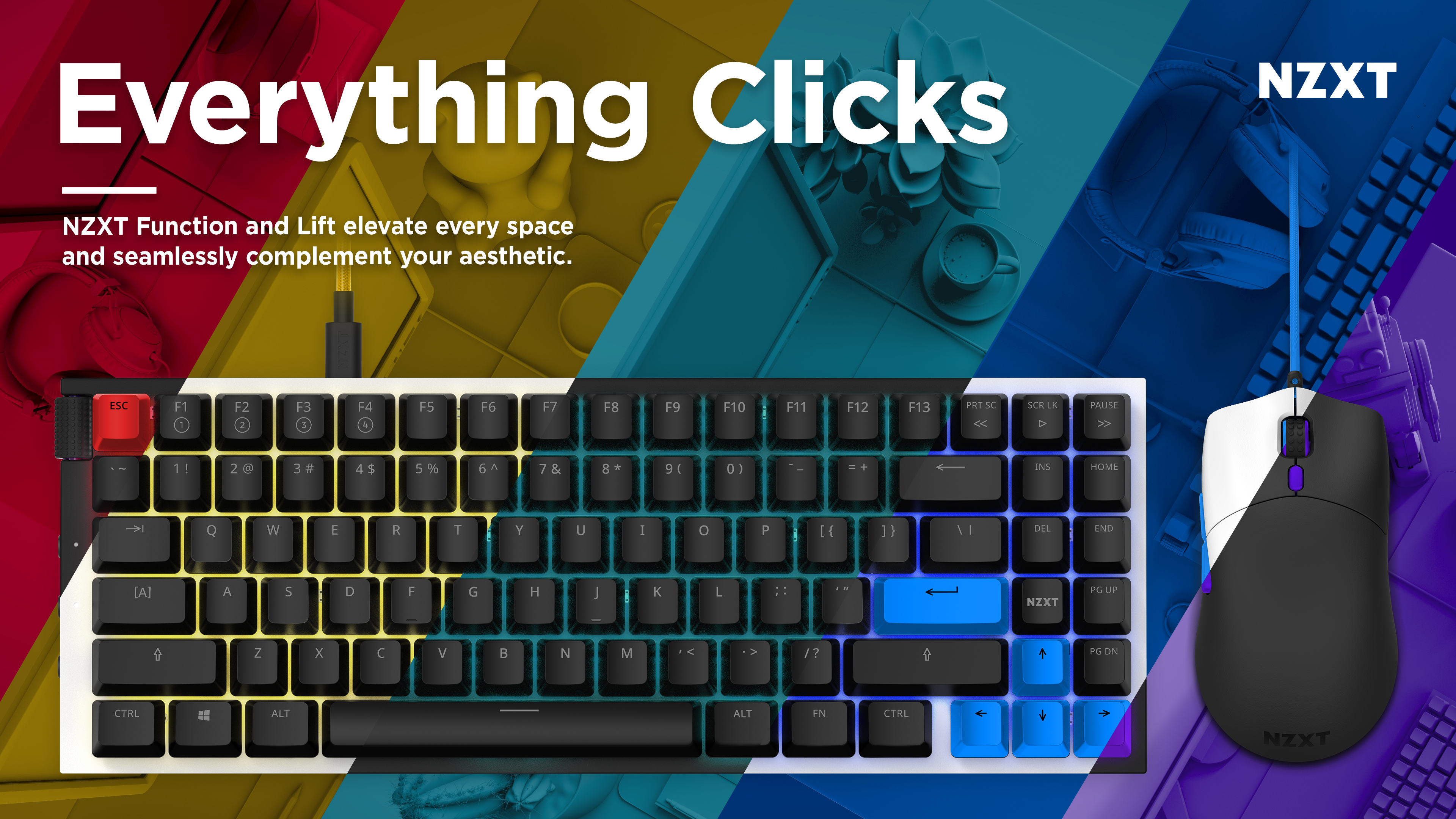 The NZXT Function Keyboard and Lift Mouse have arrived! Read on to learn more about how Function and Lift use NZXT BLD to seamlessly compliment your setup and elevate your space.
Everything Clicks
Creating the ultimate customized gaming setup has never been more achievable. Scrolling through TikTok, Instagram—or whatever your social media of choice—you can see countless setups that show off the creativity and personality of each person. We love to see it. Whether you're a strict minimalist, a funky collector, or a lover of all things cants, candles, and plants—your space should be a reflection of you. The NZXT Function keyboard and Lift mouse are designed with exactly that in mind. With hot-swappable switches, and an array of accent color options for keys and cables, personalizing your game space has never been simpler.
The Mechanics of Mechanical Keyboards
Finding a mechanical keyboard that packs in all the features that keyboard enthusiasts love is no easy feat. That's where Function comes in. Function is a simple entry point into the world of keyboard customization and allows people to find the keycaps, switches, and cables that are right for them, and install them with ease.
Squeak Squeak
But what's a keyboard without a mouse? Cue: the Lift mouse. This lightweight mouse is designed for gamers, to complement their playstyle as if it were an extension of their own hand. Using the same design language as the function keyboard, we created a mouse that not only pairs well with the Function keyboard, but also compliments any style, and any setup. Create a cohesive theme with RGB lighting across both products for a look that is truly your own. Create elaborate lighting profiles easily with your entire existing NZXT ecosystem via NZXT CAM.
A Unique BLD Experience
It can be tricky to hunt down each part of a keyboard to build it yourself. Which is what makes the custom keyboard configurator from NZXT BLD so great. Ordering a Function keyboard through NZXT BLD opens more possibilities for customization and opportunities to put on some truly unique touches. You have access to exclusive colors, switches, accent keycaps, and coiled or straight cables. You can even order a mouse that fits the color scheme of your keyboard with a cable and accent buttons on your mouse exclusively through NZXT BLD.
We 💜 Gamers
The gaming community's creativity never ceases to amaze us. You're the reason we do what we do. We love that the care put into curating unique gaming spaces has the power to inspire and connect us. We created Function and Lift to complement each user's aesthetic preferences and to open up new opportunities for NZXT fans to express their personal style.
We would love for you to join our community so that you can share your setups with Function keyboard and Lift! Join our Discordserver and follow us on Twitter, Instagram , and TikTok so you can inspire and get inspired. We can't wait to see how Function and Lift fit into your space!