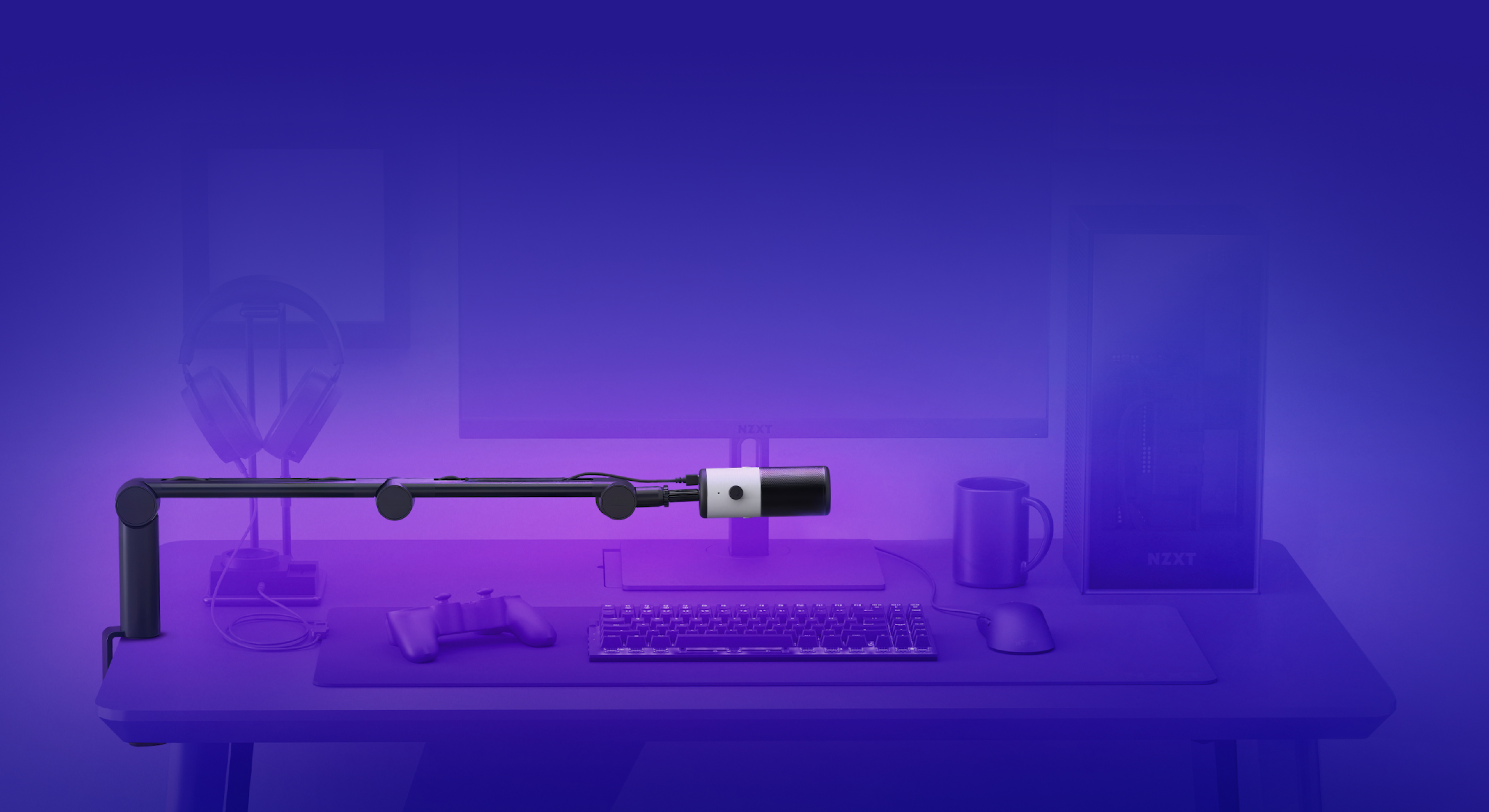 Capsule Series
Cardioid USB Gaming Microphones & Boom Arms
MEET CAPSULE AND BOOM
NZXT Capsule and Boom Arm are designed for a simple plug-and play experience, making them perfect companions for communicating while gaming or streaming.
Tuned for Gaming
NZXT microphones and boom arms are plug-and-play and ready for best-in-class comms for gaming or streaming.
Capsule
Fully optimized plug-and-play gaming microphone with high resolution for crisp sound quality.
Capsule Mini
Ready to make the most of smaller spaces without sacrificing performance. Ditch the size not the sound.
About the Size of It
Capsule and Capsule Mini are plug-and-play powerhouses engineered to capture speech stylishly in a gaming environment. The two distinct form factors make Capsule ready for any space, and every voice.
Get Right Into It
Capsule and Capsule Mini were meant for a seamless experience. Simple as that.
High-quality Audio
Best-in-class 24-bit/96kHz resolution guarantees excellent sound quality.
Low-latency Mic Monitoring
Hear yourself in real time to ensure you sound great even when the game volume is cranked up.
Best Sound Around
Great sound is crucial when coordinating with your team or talking to your audience.
Cardioid Polar Pattern
Captures your voice and nothing else. No keyboard clacking, no dog barking. Just vocal clarity.
Preconfigured Gain Level
Gain is set to an optimal 50% right out of the box. Try it out and adjust from there.
Simple and Rugged
Capsule and Capsule Mini are built to last a lifetime of worry-free usage.
Durable Construction
Metal material ensures Capsule and Capsule Mini are ready for the long haul.
Internal Shock Mount
Built-in shock resistance dampens vibrations to eliminate noise transfer.
Indicator light
Glows white when live, red when muted (Capsule Only)
Snap connection and quick release button
Quickly attaches or detaches to and from desktop stand (Capsule Only)
Tilt adjustment
Adjust vertical tilt while using desktop stand
Internal Pop Filter
Reduces "popping" sounds, so use all the 'p' words you want.
It's Mini. Boom.
Small, sleek, smooth, and silent—Boom Arm Mini supports both Capsule and Capsule Mini to make efficient use of space while displaying a microphone.
Sturdy and Silent
Get a sleek uniform look with sturdy construction that enables silent operation right out of the box.
Universal Compatibility
Holds majority of microphones, both small and large. Comes with built-in 3/8" thread and 5/8" thread adapter.
Capsule Mini x NZXT CAM
Capsule Mini is ready out of the box, but NZXT CAM opens up new possibilities for easy setting swaps like sidetone, microphone gain, and audio level controls. Sync settings to specific games with Profile Sync.
The Capsule Connection
Proud of your setup? Tag us on social media so we can share in your love of Capsule and Capsule Mini!
Introducing the NZXT Capsule
Stay In Touch
Stay up to date on NZXT product news and offers