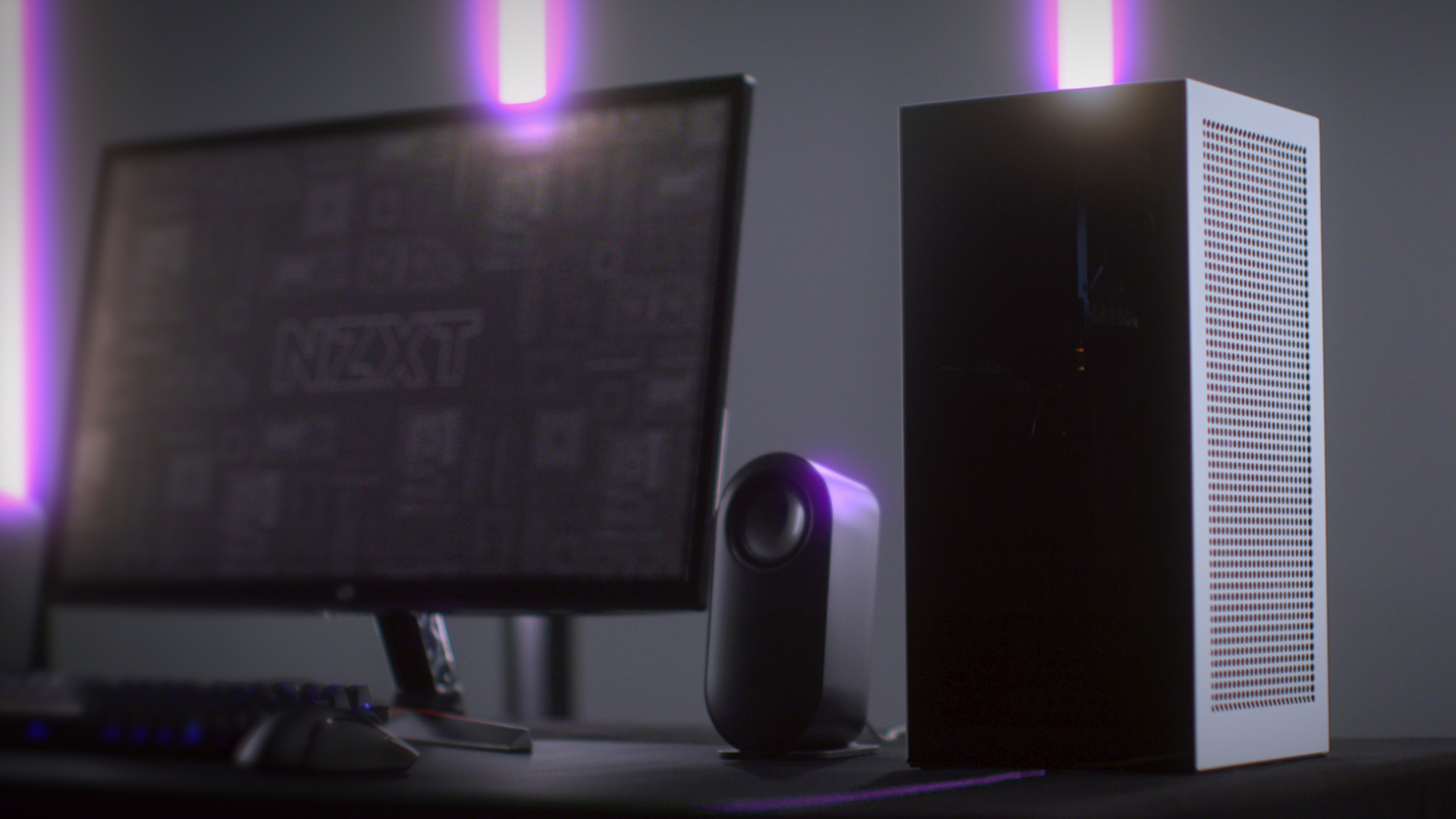 The H1 Is Back and Ready for Your Most Powerful Form Factor Builds
The H1 has returned! We took the time and used your feedback to improve upon our original design to make the refreshed H1 the best SFX case it can be. Not only is it sleek and easy to build in, but we also modified the case to fit better with modern hardware, including the built-in AIO cooler, Riser, PSU, and fan controller compatible with NZXT CAM—our system monitoring and RGB control software.
It's What's Inside That Counts
We are excited to bring you everything about the H1 that you know and love along with some improvements! With an increased case size from 13 L to 15.6 L, the internals get some much-needed breathing room to allow for better temperatures during those overnight gaming sessions. The refreshed H1 also has larger intake holes, a rear exhaust fan in the GPU compartment, and an NZXT CAM Fan Controller to customize your airflow. The H1 features increased wattage as well, with a glow-up from 650W to 750W to allow for the power standards set for the latest AMD and NVIDIA cards.
Rising to the Occasion
In our previous version of the H1 - the Riser Card had an issue related to a 12 V short caused by the screws. We are ensuring this will not happen again with the refreshed H1, and we focused on what we learned from your feedback, as well as the recall to ensure that the fire hazard issues would not plague this new version. The new H1 features a custom-designed PCB to prevent the 12 V short, alongside increased QA scrutiny, as we have partnered with a new vendor with more rigorous QA procedures to prevent bad risers from being placed into future H1 cases.
Ready to House Your Next Build
The new and improved H1 builds on the original design in many ways, while retaining the simple, clean look, and the small form-factor that defined the H1. This latest iteration is capable of containing more powerful builds while providing better cooling so that you can fill the new H1 with the latest hardware.
Why go SFF?
Small form factor cases are great for spaces compact or large–it's up to you! If you have limited room that can only accommodate a smaller chassis, SFF cases are a no-brainer. An H1 can really open up the space whether it is your dorm room, living room, or if you have a cramped desk. They can also be great for larger areas if you prefer a minimalist aesthetic. The sleek profile of the H1 can fit anywhere you need it, without sacrificing power.
We're excited to bring the new H1 to spaces large and small everywhere and we're excited to hear what you think. Stay tuned for the latest product announcements and follow us on Twitter, Discord, and Instagram.