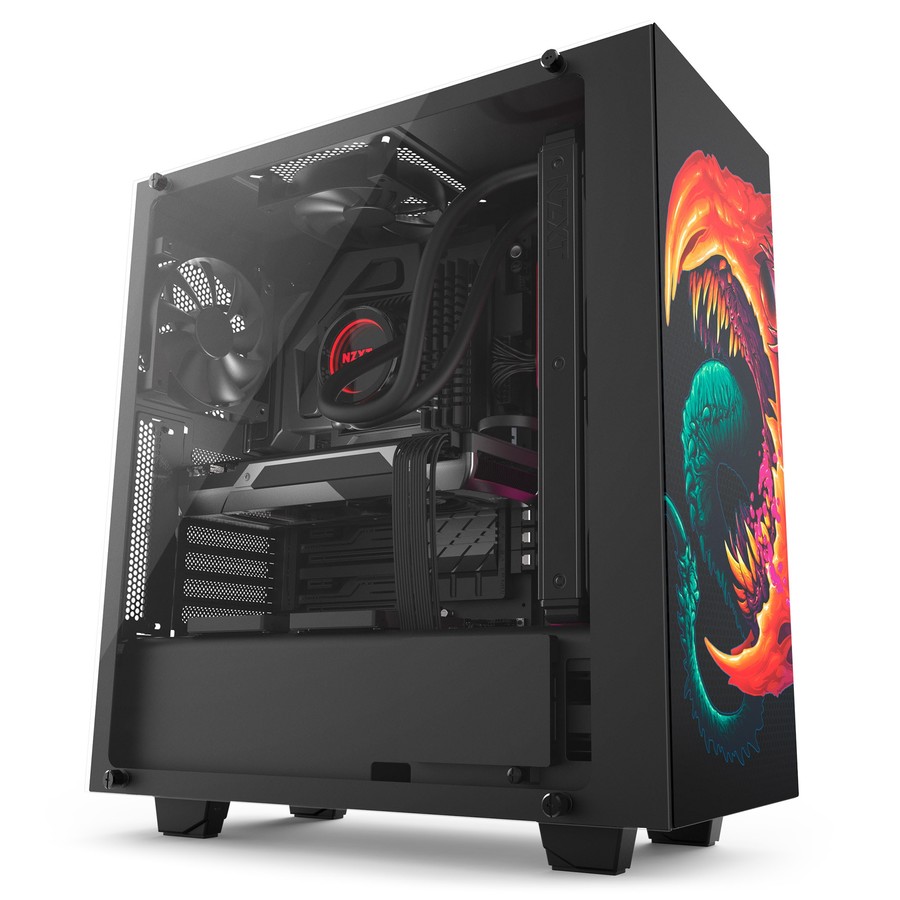 A very limited edition of the S340 Elite by renowned CS:GO artist Brock Hofer
Los Angeles, CA – April 18, 2017 – NZXT today announces the S340 Elite Hyper Beast Limited Edition, a monstrous psychedelic evolution of the popular S340 Elite mid-tower. Following up on last year's highly sought after H440 Hyper Beast, NZXT and graphic artist Brock Hofer have again joined forces to deliver a case crafted for the dedicated CS:GO player. This new chassis features the breathtaking Hyper Beast weapon skin found on CS:GO's infamous AWP sniper rifle.
Like the H440 Hyper Beast, this rare S340 Elite will be produced in a one-time production of 1,337 units, each with a uniquely numbered limited edition metal badge.
"From the overall excitement surrounding last year's H440 Hyper Beast, we knew we had to collaborate with Brock Hofer again to deliver something even wilder, " says Johnny Hou, NZXT's founder and CEO. "We love CS:GO and share the same passion that the community has when it comes to showcasing their prized possessions with the coolest artwork. The S340 Elite Hyper Beast is an extension of this and truly allows the dedicated CS:GO fan to turn one of the game's most popular weapons skins into a one-of-a-kind build."
S340 Elite Hyper Beast main features:
Limited Edition S340 Elite with Hyper Beast Design
Special gradient colored cable management bar
Red LED on Power button
4mm tempered-glass side-panel
Black VR cable management puck
Front VR accessibility
Interior cable management clamps
Additional SSD tray
A unique creation Working closely with Brock Hofer, the graphic artist creating the Hyper Beast art used on CS:GO skins, NZXT has brought the beast to the physical world. This exceptional S340 Elite version has a one-time production of 1,337 units, each with a unique numbered, limited-edition metal badge.
Monstrous Window The S340 Elite's 4mm thick tempered glass panel makes building in NZXT's popular mid-tower chassis even more rewarding. Crisp in clarity, the new tempered glass panel enhances the award-winning all-steel construction design of the S340 by highlighting all builds with uncompromised beauty.
Enhanced with Virtual Reality Gaming Getting VR up and running with the S340 Elite is a snap with the HDMI and USB-port connectivity readily available from the top panel. The innovative magnetic cable management puck allows users to wind up VR and audio headset cables with ease, or split the puck apart for longer cable coverage.
The Cleanest Mid-Tower Interior The S340 features an open interior design with a steel cable management bar that splits the front intake from the rest of the case. A new clamping system has been added behind the cable management bar and along the rear, enabling users to achieve a clean and hassle-free build with minimal efforts.
No Corner Left Untouched Fully-filtered intakes, steel-plated audio jacks, captive thumb screws, and cable management solutions are just a few of the design features that keeps every build looking sleek inside a compact chassis.
Water Cooling Ready There's no sacrificing performance with this small mid-tower case that boasts full compatibility with NZXT's entire line of Kraken Series liquid coolers.
MSRP Pricing: S340 Elite Hyper Beast - $199.99 / 179,90 €
Availability: USA / EU – Late May
Please visit NZXT.com for additional information. You can access visual & PR materials here.
For media inquiries and sample requests, please contact:
NZXT Americas Wesley Ruscher wesley.ruscher@nzxt.com
NZXT Europe Cosma Nicolau cosma.nicolau@nzxt.com
NZXT Asia / ROW Kevin Shih kevin.shih@nzxt.com
About NZXT NZXT is a leading computer hardware manufacturer with a diverse product portfolio that equally values design and function. Their award-winning products empower hardware enthusiasts to build some of the most beautiful and imaginative computer systems in the world. By offering exceptional customer service to new and veteran builders alike, the company also prides itself on energizing the PC DIY community with content that is educational, resourceful, and inspiring.