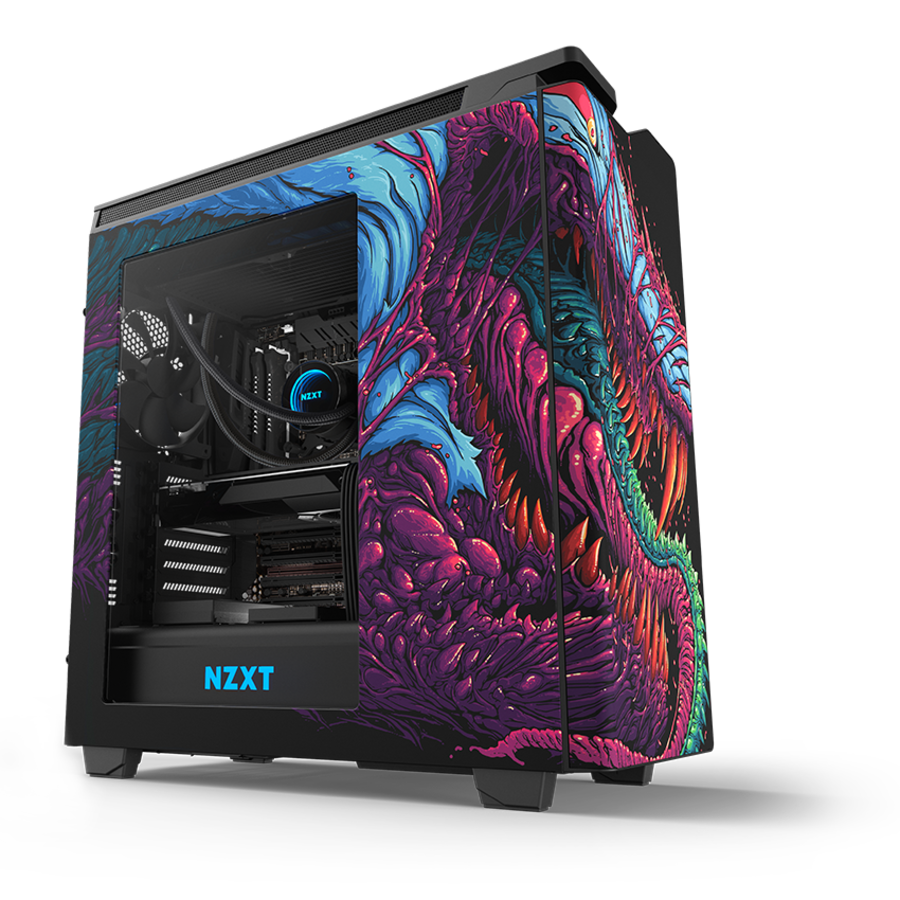 Los Angeles, CA – November 1, 2016 – NZXT today announces the H440 Hyper Beast Limited Edition, a very exclusive version of its classic H440. Developed in collaboration with Brock Hofer, graphic artist behind Hyper Beast, this case is focused at CS:GO fans. It features the fierce creature found on the CS:GO M4A1-S Hyper Beast weapon skin.
This rare H440 is produced in a one-time production of 1,337 units, each with a uniquely numbered limited edition metal badge.
"Being gamers at heart, we know how passionate gamers can be about their favorite titles. And even more so with the rise of in-game items customization featuring intensively sought-after rare skins. That's why we decided to work with Brock Hofer to help CS:GO fans turn their favorite virtual skin into their own very rare build. With H440 Hyper Beast one can say that the beast is truly unleashed" says Johnny Hou, NZXT's founder and CEO.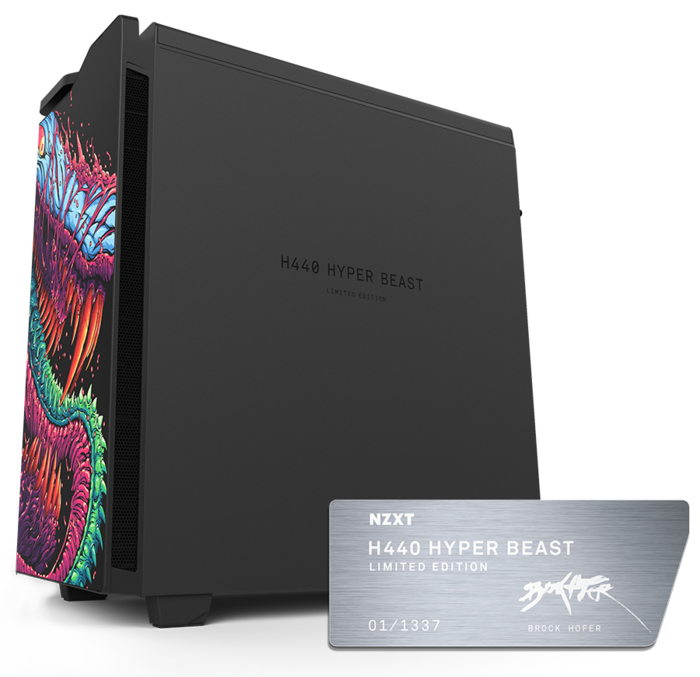 H440 Hyper Beast main features:
Limited Edition H440 with Hyper Beast Design
Liquid cooling support: 240mm, 280mm, 360mm Radiators (Front and Top)
Include 4x FNv2 case fans: 3x 120mm in front and 1x 140mm in rear
All-steel top and front panels, HDD drive trays, and chassis
Effortless cable management
5mm thick closed-cell sound dampening material
Integrated 8-port PWM fan hub
Blue LEDs on PSU shroud and Power button
A unique creation Working closely with Brock Hofer, the graphic artist creating the Hyper Beast art used on CS:GO skins, NZXT has brought the beast to the physical world. This exceptional H440 version has a one-time production of 1,337 units, each with a unique-numbered, limited-edition metal badge.
Clean build, in and out Users can display the beast in its whole glory thanks to a large, full-view window that reveals an interior specially engineered to make your build seamless and beautiful. The H440 Hyper Beast features a doorless, ODD-free front panel made entirely of steel to further beautify the build.
Massive cooling To help cool its inner fire, the H440 Hyper Beast supports both 140mm and 120mm fans. The steel top and front panels come Kraken-ready and fit radiators up to 360mm in size to offer you comprehensive water cooling performance in a sleek, minimalist package.
Effortless cable management Within the belly of the beast lies an integrated power supply shroud that completely conceals cables and increases cable management space up to 80%.
PWM fan hub Housing powerful systems, the H440 Hyper Beast knows how to protect users ears from its inner roars. An integrated 8-port PWM fan converts the motherboard's PWM signals into voltage regulation for the case fans keeping the system silent under low load.
MSRP Pricing: H440 Hyper Beast - $199.99 / 199,90 €
Availability: USA – late November EU – early December
Please visit NZXT.com for additional information. You can access product images here.
For media inquiries and sample requests, please contact: NZXT Americas Wesley Ruscher wesley.ruscher@nzxt.com NZXT Europe Cosma Nicolau cosma.nicolau@nzxt.com NZXT Asia / ROW Kevin Shih kevin.shih@nzxt.com
About NZXT NZXT is a leading computer hardware manufacturer with a diverse product portfolio that equally values design and function. Their award-winning products empower hardware enthusiasts to build some of the most beautiful and imaginative computer systems in the world. By offering exceptional customer service to new and veteran builders alike, the company also prides itself on energizing the PC DIY community with content that is educational, resourceful, and inspiring.