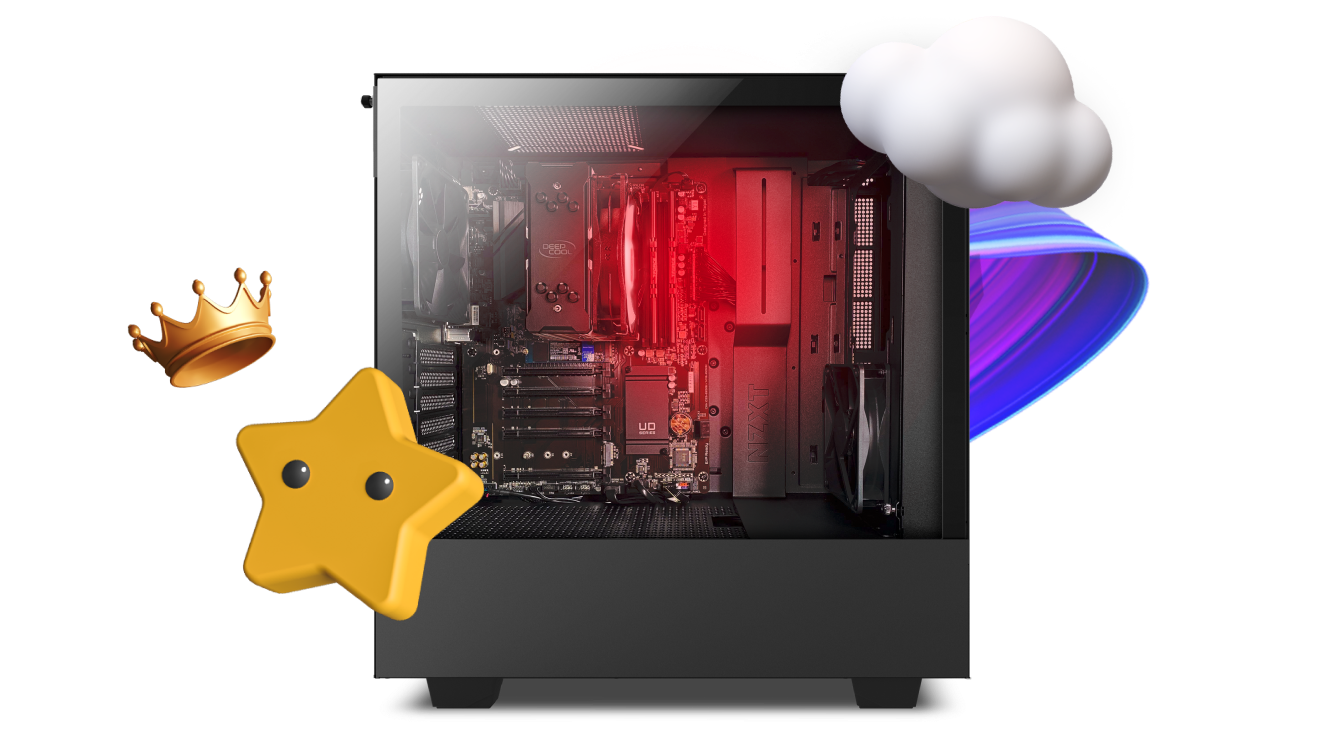 "Een nieuwe manier om te spelen
Vanaf nu heb je geen grafische kaart meer nodig om pc-games op je NZXT BLD pc te spelen. We presenteren de Foundation PC, een pc gebouwd met APU. Een nieuwe manier van gamen zonder GPU. De Foundation PC is verkrijgbaar in twee versies: een H1- en een H510-editie. Hoeveel ruimte je ook hebt, je kunt een stille gaming-pc hebben die de meeste van de huidige populaire games aankan.
Geïntegreerde versus toegewijde Graphics
De GPU is de turbolader. Het stelt jouw computer in staat om zware visuele belastingen te doorstaan. De GPU is verantwoordelijk voor het verwerken van alle visuele gegevens van een game of applicatie. De meeste gaming-pc torens hebben een speciale grafische kaart die de pc zijn grafische pk's geeft, maar niet elk gaming-apparaat heeft een speciale GPU. Geweldige voorbeelden van game-apparaten met een geïntegreerde grafische kaart zijn laptops, het aankomende Steam Deck of gameconsoles zoals de Xbox, Playstation en Switch.
Wat is een APU?
Een APU (Accelerated Processing Unit) combineert de CPU en krachtige geïntegreerde grafische kaart in een enkele processor, waardoor al het plezier van pc-gaming mogelijk is zonder dat een speciale grafische kaart nodig is. Of je nu op zoek bent naar een pc met geïntegreerde grafische kaart vanwege tekorten, kosten of persoonlijke voorkeur, de Foundation PC kan je pc-gamingreis op weg helpen.
Voordelen van APU
De Foundation-pc kan de meeste moderne titels spelen, zoals Fortnite, Minecraft en Rocket League. Gebruikers die van die games houden, hoeven niet te gamen met vrienden, in Discord te hangen of te spelen wat populair is. De voordelen van pc-gaming zijn binnen handbereik zonder het gedoe van het zoeken naar een GPU.
In tegenstelling tot een Steam Deck of een gameconsole, is de Foundation PC klaar voor elk onderdeel dat op elk moment kan worden geüpgraded. Wanneer je klaar bent om jouw RAM te upgraden, meer opslagruimte toe te voegen of zelfs een afzonderlijke GPU toe te voegen. De mogelijkheid om jouw systeem tijdens jouw pc-gamingreis te verbeteren, is wat de Foundation PC onderscheidt van andere gaming-apparaten met geïntegreerde GPU's. Bespaar vandaag nog op kosten, ga gamen en upgrade wanneer dan ook.
Een sterke basis
De lagere kosten van de basis-pc zijn het perfecte systeem om je te helpen met pc-gaming. Daarom is dit een ideaal systeem voor kinderen of professionals die snel een betaalbare pc nodig hebben, maar geen toeters en bellen nodig hebben die onze andere vooraf gebouwde pc-series bieden.
De Foundation-pc kan ook worden gebruikt als secundair systeem voor gebruik in een thuisbioscoopopstelling of een gezins-pc. Met de kleine footprint van de H1 Foundation-pc kun je dit systeem gemakkelijk opbergen en genieten van alle voordelen van het instellen van media. Bovendien kun je het gebruiken om games zoals Overcooked of Jackbox te spelen wanneer je game-avonden hebt!
Is de Foundation-pc iets voor jou?
Bekijk de onderstaande grafiek om benchmarks te zien voor enkele van de meest populaire games die er zijn: