The Simplest Way to Get Into PC Gaming.
We do the work, you do the play.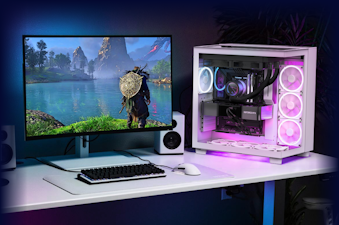 Simple As One, Two, Three
Pick a pre-configured gaming PC or configure your own.
Performance of a Lifetime
Whether you're selecting each part or leaving it to us, it's easy to get unbeatable FPS and top-tier thermal performance.
Access the latest and great powerhouse components.
We offer the best parts which makes the choice simple.
Modify prebuilt and custom PCs with ease.
We Make This Look Good
Have you been drooling over your favorite content creator's setup? Now it's your turn to to get the PC of your dreams.
All our Gaming PCs are built by experts inside of our sleek H Series cases with plenty of options to add RGB-powered wow factor.
We Have Your Back
From our 3-year warranty to our quality parts, our gaming PCs bring peace of mind. Think of our awesome support staff as the team healer.
3-Year Warranty
Our warranty covers all parts and labor.
Award-Winning Service
We are gamers ourselves and we respect the community we come from. We are expertly trained to support any hurdle.
We Team Up With Top Brands
We've been serving the PC gaming community since 2004. It's not just our job, it's our passion.

Game Your Way
We've got two simple paths to get your gaming PC.
Player: One
Starting at €1,199
Smooth and sustainable game play.
NVIDIA® GeForce RTX™ 4060
NVIDIA® GeForce RTX™ 3060
16 GB (2 x 8GB) DDR4 3200 MHz
Player: Two
Starting at €1,599
Powerful, built-to-last performance.
NVIDIA® GeForce RTX™ 4070
16GB (2 x 8GB) DDR4 3200 Mhz
Player: Three
Starting at €2,699
Supercharged, state-of-the-art parts.
NVIDIA® GeForce RTX™ 4070 Ti
32GB (2 x 16GB) DDR5 5600 Mhz
Build Your Own PC
Starting at $1,300
Customize your PC to your exact specifications to push performance, resolution, and more.
Up to NVIDIA® GeForce RTX™ 4090
Up to Intel® Core™ i9-13900KF
Up to 128GB (4 x 32GB) DDR5 6000 MHz
"I'm extremely impressed with this case. Everything is really high quality. Kudos to NZXT for taking something that's already been on the market that people love and just making it better."
GivemChills
"Given all of that history there is one company you will see me recommend time and time again and that's NZXT. And it's more than just their quality, it's that NZXT approach to buying a PC that's just straightforward and simple."
Robeytech
"As PC business owners, we like to see companies that have quality customer service, good build quality, and everything else. NZXT has always been on our shortlist for those."
Toasty Bros
★★★★★
An Amazing Machine
This pre-built tower was thought out and put together well! This thing is an absolute unit with its processing speed. I'm actually able to play Halo Infinite now!
-Bryan W. 05/2023
★★★★★
Best Gaming PC Build Ever!
I paid a lot for the ultimate gaming PC from NZXT but it is simply the best build out there today. I reviewed many builds, but this one was the best hands down.
-Ken J. 05/2023
★★★★★
New Tower Setup
Not knowledgeable about computers, but purchased an NZXT computer and it was worked great for a strenuous game like red dead redemption 2 on higher graphics settings. Can also load several of my softwares just fine. Arrived with no damages
-Noah R. 01/2023
★★★★★
My New Sreaming PC
I have been streaming for over a year on twitch and even though I was utilizing a gaming laptop I was beginning to see that it was starting to breakdown slightly and I couldn't handle the power I needed for streaming. So I looked into investing in something stronger. I am very happy with my new pc, everything moves so much faster and the quality of my streams have gone up as well. Thank you!
-Jessica K. 12/2022
★★★★★
Just what I was hoping for!
I wanted a prebuilt that could run all my fav games on ultra settings, but without breaking the bank & sounding like a tornado at the same time. I've had it for a month now and have had 0 issues, it was so easy right out of the box. No garbage bloatware either!
-Navkarn H. 12/2022
Better Together
Create the ultimate desk setup with our lineup of NZXT products to make for a customizable and cohesive desktop environment.
Control Your PC with CAM
NZXT CAM software unleashes your creativity and optimizes your PC's performance with intuitive controls for pump and fan performance, dynamic screen content, and customizable RGB lighting effects for a truly personalized experience.
Build vs. Buy a Gaming PC?
The decision to build or buy a gaming PC depends on your technical expertise, budget, and customization preferences.
Build DIY (do it yourself): Building a PC allows for greater customization and potential cost savings, but requires technical knowledge and time. The biggest hurdle is the potential for compatibility issues among components, and the precision needed during assembly which could increase costs. It usually involves troubleshooting challenges if problems arise during or after the build.
Buy: Buying a pre-built PC is more convenient with technical support but may limit customization options and can be more expensive.
Buying from NZXT is advantageous for those seeking convenience, warranty, and tested compatibility without compromising on quality components and minimalist design. , and customer support, saving time and effort compared to building from scratch.
Prebuilt vs. Custom Gaming PC?
When deciding between buying an NZXT prebuilt gaming PC and an NZXT custom gaming PC, consider convenience and customization.
Prebuilt: The NZXT Player PCs are a series of prebuilt gaming desktops with three models that increase in performance and H Series case form factor. They still give you the flexibility to customize them with your desired CPU/GPU, RAM, and storage using the latest components on the market.
Custom: NZXT custom PCs designed by you and built by us. All of our PC technicians are highly-trained builders who will build, fine-tune, and test to ensure your product is ready to go.
Additionally, all of our PCs come with 3-year warranties that cover both the hardware and software with full-on support from our customer service team.
What are the warranty differences between a Prebuilt and Custom PC?
All Prebuilt and Custom PCs come with a 3-year warranty that covers all parts and labor, and our award-winning customer service team is ready to assist you.
Do you offer finance options your gaming PCs?
Yes! NZXT has partnered with Klarna to offer secure financing, allowing you to pay off your purchase over time. There are no hidden fees or catches, and it is easy to set up.
Can I upgrade a Prebuilt PC ?
Absolutely, you can typically upgrade a prebuilt PC, whether it's from our Player Series or a custom build. However, the ease and extent of upgrades might vary based on the manufacturer and the specific model of the prebuilt PC.
Commonly upgraded components in a prebuilt PC include the GPU, RAM, storage (e.g., adding an SSD), and sometimes the CPU. However, each prebuilt PC might have different limitations, so it's essential to research and understand your specific model before attempting any upgrades. Reach out to customer support if you're unsure.
How long is the shipping time for a Prebuilt PC? Custom PC?
Our pros are ready to get started on your order immediately. Generally, you can expect your custom or prebuilt PCs to be shipped within 5 business days. However, refurbished products may process and ship at different times.
Rester en contact
Sois informé des dernières sorties, offres et nouveautés de NZXT.